Soil Solutions a Family Business Producing High Quality Compost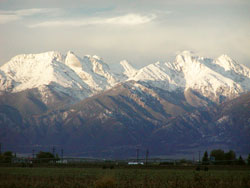 We are a Colorado family business, comprised of Gregg the father and two sons Justin and Mark, each bringing diverse and unique skill-sets to bear on the production of high quality compost.  We currently produce a high quality compost for large scale agriculture in the Colorado San Luis Valley.
Soil Solutions is dedicated to listening to the consumer and providing the advice and product you need to succeed. We bring experience from Farming, Fabrication, Carpentry, Diesel Mechanics, Journeyman Electrician, and Compost Tea Production, which all lend a different skill set to making this company work and become the leader in the high quality composting industry.
As a family we had been introduced first hand to what healthy foods can do to our bodies
Why We Started
We saw a need to start giving back  to the soil on our family farm to make it healthier and grow healthier crops. As a family we had been introduced first hand to what healthy foods can do to our bodies. Our great grandfather and grandfather would use tons of manure on their crops to keep the soil healthy, so we decided that a high quality compost would be a better alternative than to apply straight manure.
As a result we started investigating how to make compost and found a company that built Compost Turners that made high quality compost instead of just shrinking manure piles.  In 2006 we bought an Areomaster PT 170 turner and got to work on making compost for farmers in the high mountain valley of Colorado known as the San Luis Valley.  We soon discovered that not only did potatoes, wheat, and alfalfa benefit from our compost but our vegetable gardens, flower gardens, house plants, lawns, seed beds and everything that we added the high quality compost to immediately spruced up and had a better healthier shade of green.
Gregg Rogers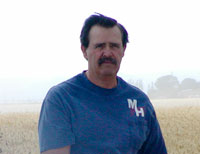 Gregg was born into a farming family and raised in a Southern Colorado Valley , San Luis Valley, which is primarily a farming community. Since his graduation from high school, he has chosen to stay with the family tradition.
Upon marriage, he began an extended business of custom hay hauling with a self-propelled bale wagon. This kept him busy many years. During this period of his life, in the winter months he spent raising cattle and working on the trade of carpentry for a local contractor. This became invaluable experience for him in later life as he built his own home on the homestead farm. Also at this time, his two sons became involved with farming.
Later he chose to leave the business of growing alfalfa and turned back to planting, raising, and harvesting of potatoes. This part of farming continued for a few years. During this period of his life he was diagnosed with cancer and not given much hope to live beyond six months.
When Gregg had to experience surgery, he was blessed with a nurse who had a father with the same type of cancer. She recommended he see a doctor in Chicago who addressed the disease with a traditional and alternative method. This was the turning point in Gregg's life when he realized how important it is to eat foods that are grown in a healthy manner. To make a long story short, Gregg has been a survivor of cancer because of changes in diet and exercise.
This brings us to the point where Gregg is actively involved in Soil Solutions business of farming without chemicals and enriching the soil. He has learned how important it is to not deplete the soil of nutrients with expensive chemicals and commercial fertilizers. He is now involved in farming grains, brewing compost tea, and making  high quality compost.
Justin Rogers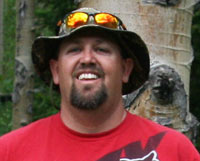 Justin, the oldest son, has always enjoyed going with his dad on the family farm. He started helping his dad at a young age, always wanting to irrigate, work on equipment or run the tractor. During high school he worked on the family farm during the summer doing whatever job was needed. After high school he attended college at Adams State where he met his wife Tracy. After graduation, they moved to Denver, Colorado where Tracy attended law school and Justin began working as an electrical apprentice. He worked three and half years as an apprentice in Denver before they moved back home to Alamosa. After returning home he finished his apprenticeship and became a Journeyman Electrician.
While he enjoyed his work as an electrician, in 2002 he chose to return to the family farm to work with his brother and dad. Upon returning to the farm he started researching compost and compost tea for large scale agricultural use. Soon he was brewing tea every day. He was inspired by what compost tea was doing for the farm. That led to the farm deciding to go into producing high quality compost. Justin & Tracy's two daughters, Makenzie and Kamryn enjoy spending time on the farm with their dad. Working with family poses some unique challenges, but at the end of the day, the reward of being involved in each others lives on a daily basis is well worth the effort.
Mark Rogers
Mark is the second son of the Rogers family. He too had a love for the family farm at a very early age. So much of a love that when it came time to attend Kindergarten, he informed his Mom that he couldn't attend school because his Dad needed him on the farm.
He became involved in turning alfalfa and irrigating at a very young age because his brother was already doing these things and he wanted to do the same. His biggest love was to go to the shop and help his Dad and his Grandad with all of the work that was accomplished there.
After high school, he attended Diesel Mechanic School and became certified in that area. Shortly after completing this education, he went to work for a local farm. He was severely injured in a farm accident, and spent the next 9 months rehabilitating. He once again starting working on the family farm after returning to health. During this time he met his wife, Kelly. He established his home in Hooper after marriage and eventually became the father to a daughter, Tymberlynn, and a son, Deagon.
Mark became involved in grain and potato farming. Then the farming operation started producing compost tea and high quality compost and Mark got  actively involved in working to make it a success. With his father's cancer he became aware how important it is to eat healthy. As a result, he knew it was very evident that eating healthy began with the way soil is taken care of and planted in the right way to produce healthy living styles.
Once again the family tradition has appeared in Mark's son, Deagon, going to work with him on a daily basis instead of going to a babysitter. Deagon, has already developed a love of the farm and knows well the high quality compost business.
…where can I get some compost like yours to put on my flower gardens and my vegetable gardens? I just can't find a quality compost like yours in the stores.
From Agriculture to Consumer
Soil Solutions is now taking the direction of supplying not just farmers but gardeners, landscapers and home enthusiasts with  high quality compost.  The prime reason for this is the demand from consumers for a high quality compost for their gardens whihc can't be found in the stores. This has lead us to move into selling our high quality compost online so more people can have access to it.  We would love for everybody to have the chance to use our compost and be as excited about it as us.
Soil Solutions Mission
Soil Solutions Inc. is a spirited, creative enterprise dedicated to making a high quality compost that provides our consumers with a product that surpasses the traditional product found in today's market . We view ourselves as partners with our consumers, our employees, our community and our environment. We aim to become a nationally recognized brand name, benefiting from the continued demand for healthy food and sustainable farming practices. Our goal is sensible growth, annual success, and enjoying the benefits of working with our family every day.