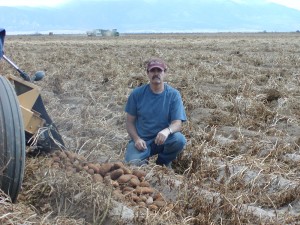 In 1990 my Dad was diagnosed with Renal Cell Carcinoma, his kidney was removed and he went back to work on the farm, not changing anything in his life. Six months after having his kidney removed, his heath had taken a major turn for the worse, he suffered severe fatigue and turned yellow.
The prognosis from the local doctors was that he should spend some time getting his affairs in order as they only gave him 6 months to live. Not willing to accept that prognosis, he connected with a Doctor in Chicago that had a philosophy of treating the whole person rather than solely engaging in traditional cancer treatments.
Major Modifications to Diet
Dr. Block's "whole person" treatment philosophy included major modifications to diet. This was more than a diet, it was a total lifestyle change. As many "old timers" know, most farmers and ranchers love their steak, potatoes, bacon, eggs, sweets, and sugar in their tea. My dad was no different, at least until Dr. Block got a hold of him.
Our family had never heard of a macrobiotic diet, which removed all processed foods, animal fat, sugar, eggs, meat, and cheese, and replaced it with organically grown vegetables, organic brown rice and whole grains, a limited amount of fresh fish, all of which should be unprocessed.
The reason for the emphasis on "organic" veggies instead of just veggies from the store was twofold. First, no pesticides, herbicides or commercial fertilizers are used in the production of organic foods. The second is that organically grown veggies have a lot more nutrients in them which in turn is better for your body.
Our bodies need foods high in nutrients and these nutrients come from the soil.
Healthy Living Principles
I was only 18 when we started on this journey and I really didn't realize what this diet was all about. I just wanted my cheeseburger. Now that I am older, I realize that this diet was about getting the body off processed foods and back to what the body needs. Our bodies need foods high in nutrients and these nutrients come from the soil. The healthier the soil, the healthier the plants at and the more nutrients the produce has. While it took me a while to put it all together, what started out as a very strict diet evolved into healthy living principles.
I'm happy to say that it was 22 years ago when my dad was given a mere six months to live. I assure you he is alive and very much an active participant in our business endeavors.
Our First Compost Tea
We had always farmed with commercial fertilizer but in 2002 our farm consultant, Mr. Bill Crowder from Agro Engineering, suggested that we start brewing Compost Tea to put on our crops and soil to help reduce the amount of chemicals that we use on our crops. At first we were skeptical, so I started researching the product and the benefits it could provide. I was still not totally convinced but with the cost of chemical fertilizer skyrocketing, we decided to give it a try.
Using compost tea proved not only to be healthier by reducing our dependence on chemical fertilizer, it was also more cost effective than chemicals.
After we got started and saw firsthand the impact compost tea had on our soil quality and plant health. We started looking at our soil differently. With the success of the compost tea on our land we started exploring other things we could do to make our soil healthier. Using compost tea proved not only to be healthier by reducing our dependence on chemical fertilizer, it was also more cost effective than chemicals. The next logical step seemed to be expanding our operation to include making compost that we would use to support our soil. In the spring of 2006 Mark and I attended a class on agricultural large scale composting and in the fall of 2006 we purchased an Aroemaster PT 170 compost turner.
Our First Compost
The turner came late in the fall but we were eager to get started. We lined up the straw bales, added the other components and got started in hopes of having enough completed compost to put on our land in the spring. Everything started off great and our rows began looking more like compost. However, we do live at 7600 feet and tend to have brutal winters with temperatures often below freezing for long stretches of time. We were determined not to give up on this project and we struggled through the winter doing everything we could to keep the compost moving. By spring we had a finished product. We learned our lesson well that winter and since then we try to have the compost finishing going into winter so it has those months to cure and in the spring it is ready to apply to the fields.
Since the fall of 2006 we have refined our processes and recipe and have developed a high quality compost that we believe does a phenomenal job and has a wide range of uses. We personally apply it everywhere. The versatility of this compost allows you to apply it 2 tons to the acre on farmland or top dress your house plants with a small handful.
The following two tabs change content below.

I'm part of a family business that enjoys making high quality compost not just for us but for our customers also. I love taking raw components and turning them into beautiful compost that smells like freshly turned earth. Just knowing how much my compost can help out any soil makes all the hard work worth while.

Latest posts by Justin Rogers (see all)